3rd Annual Mendocino Thanksgiving
The weather can be both kind and cruel this time of year traveling up and down the Oregon/California coast, but so far the pattern always seems to be; sunny going and rainy returning. For our third Thanksgiving trip to Mendocino we followed our traditional pattern of jetting down I-5 from Portland and crossing over to the coast at Grants Pass on Hwy 199 into Crescent City. We left on a Friday this time in hopes of a quieter drive as compared to a Saturday when the hordes of zombie drivers full of distracting kids and rear windows packed blindingly full. This decision made for an uneventful first day seeing new sights as our mind was allowed rare moments of freedom to wonder if only for a long breath to gaze at the landscape hurtling past the van. We always take advantage of our fresh eagerness and put in a long first day (370 miles to Gold Bluffs campground). Gold Bluffs is a unique hidden little gem made all the more special by the time of year. I'm sure in the summer this is a mad scene but the tiny spaces for cars and steep curvy dirt road drive down to the entrance must be enough of a deterrence…but as we've learned no well managed campground can escape the warm weather masses. But for us, at this moment, we always find ourselves rolling in late Friday with many site options and only a few hardy other campers who glance up from warm cups of something to see us pass. Three things makes this place: ocean site views, showers and residential elk.
Leg 2 is always shorter except for the initial entrance to HWY 1. Once you leave the comforting spaciousness of 101 you are plunged into a winding 25 miles of hell. In years passed I have treated this section like a formula one race course thinking the faster through the better. This year I took the old grandpa approach of casually gliding slowly around each corner. The later took marginally more time but we were less frayed at the end. From there it is a pleasant coastal drive to our destination; The Andiron just south of Mendocino.
The week quickly settles into a rhythm of morning laziness, sitting around in sweats, caressing a cup of coffee and enjoying the casual conversations with other family members as each wake on their own time and pace. Each day we would lament how long it takes to get out but the habit continued for the entire week. For this trip Sabine's relatives had arrived from Germany so there was a hint of added pressure to foster the best possible Mendocino experience, but it wasn't enough to accelerate our morning ritual. There would inevitably be a moment when the pull of apathy would give way to the expanding desire to actually accomplish something.
There are limited options in and around Mendocino and with a large group the debate of who, what, where is often a sticking point and another ingredient to the morning lazy soup. I personally could surf every single day, easily. The other options are hikes, mushroom hunting and walking through town…but that sums up the extent of the other options. In our group there are no obvious dominant decision makers but there are two individuals with an almost stubborn focus on their universal joy; I with surfing and my brother-in-law with mushroom hunting. Thankfully we enjoy each others company more than the individual desire to do a single thing, and each of us also enjoy the others adventure albeit in their perspective low doses. I get the sense that everyone else are pretty much along for the ride because each day consists of one of these two options. Even Thanksgiving day with all the cooking, eating, drinking and game playing we still find a way to do one of the aforementioned adventures.
Heading back dreaded. There have yet to unlock the best path. You'd think it would be similar to coming but somehow it always feels ten times harder. We leave earlier and yes we do drive further because we stay on 101 longer the first day to get to Cape Blanco (321 miles from Mendocino). We opt for HWY 101 because I-5 going North after Redding seems to be in a perpetual state of unpredictable stupidity and congestion. Simply put I-5 North in Oregon is ugly and sad. The coastal drive, while longer, is always far more interesting. Our luck is not great with the past two years being plagued with torrential view sapping rain (The first year is when we lost our souls on I-5). Even with the rain we prefer it to the alternative. I keep pushing to do this trip over three days so that we can…you guessed it…go surfing along the way.
Some photos of the trip. This year I took more video and made a small movie but it was mostly for family viewing. I'll see about editing down for public consumption…even then I hardly believe people will be scrambling for it.
Gold Bluffs Campground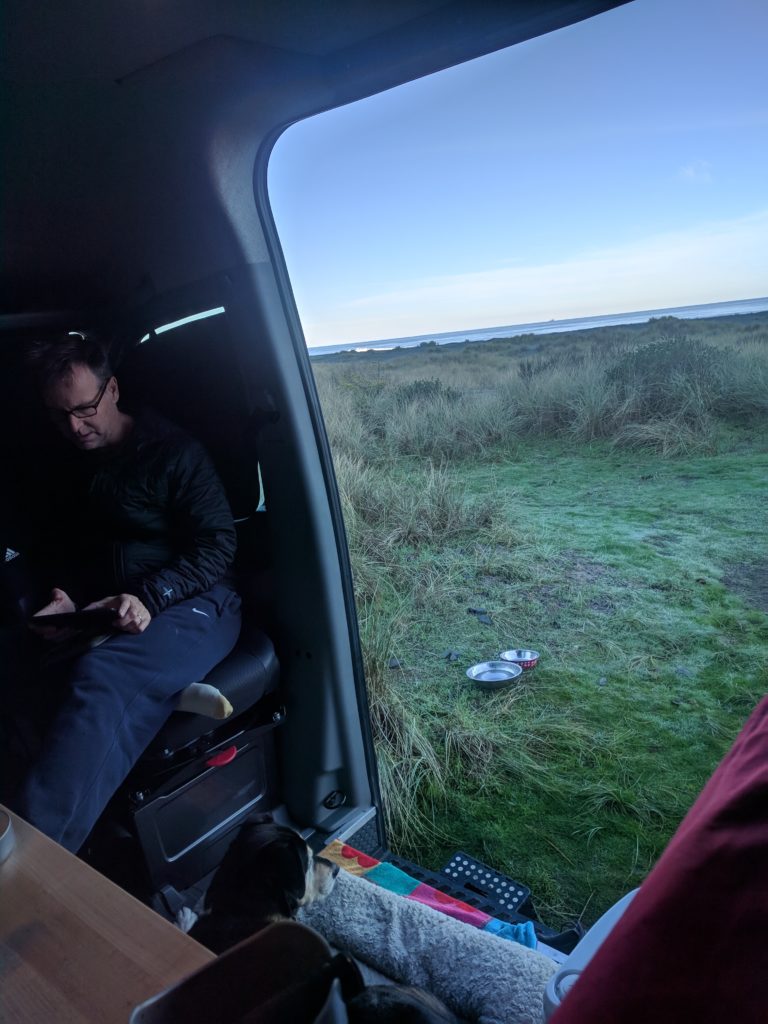 The parking spots are tiny little indents from the road. But you can't beat the classic side door open to an ocean view with a #vanlife #dogslife post. Sorry, no yoga poses.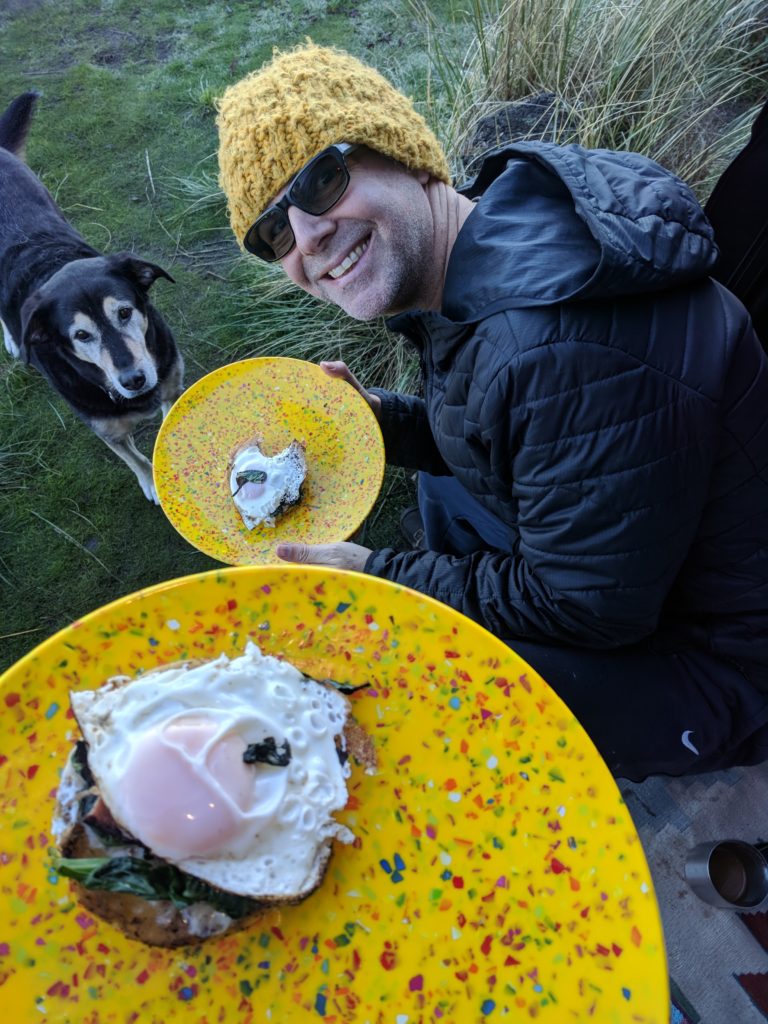 I feel like this says it all. Nice festive plates, perfectly cooked eggs, warm clothes, a smile, grass (aka nature), the dog and a cup of coffee off to the side. Traveling and camping in the van always seems to be at it's apex in the morning while eating breakfast.
The beach at Gold Bluffs is spacious and seems to go forever. The seas are typically rough but clean. The cliffs, fog, dunes, elk all combine to make this a gorgeous destination and a perfect way to start a week off.
The Andiron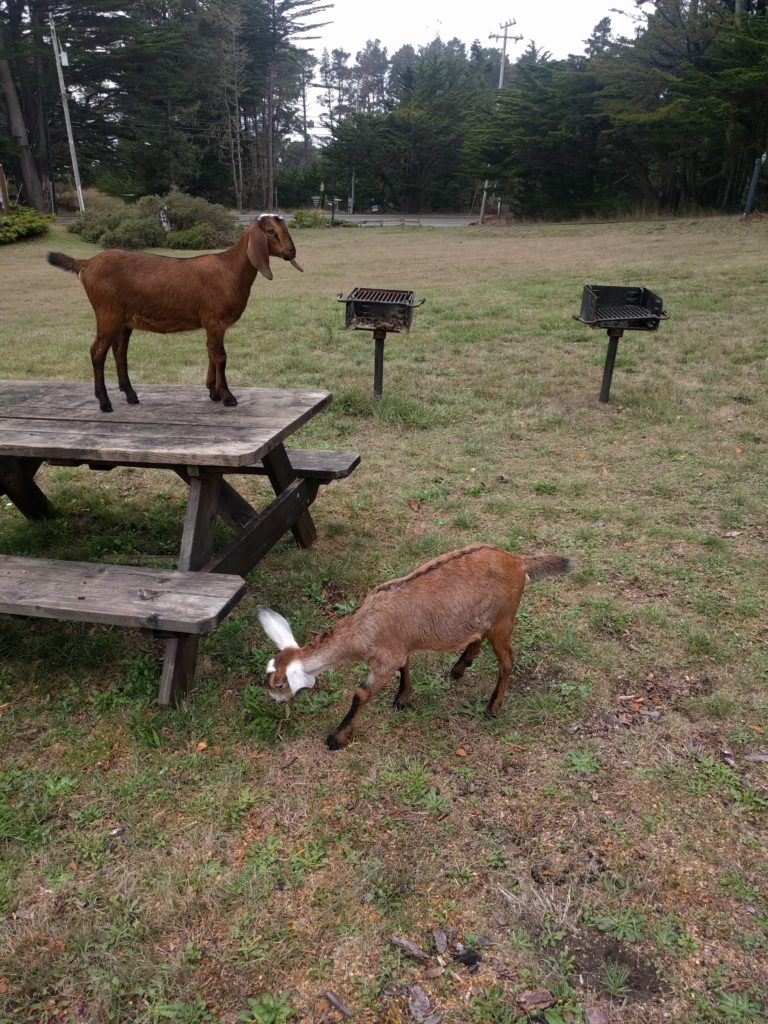 Owned by a wonderful couple The Andiron has been our home base all three years. For Sabine's sister the tradition goes much further back. It is a quirky, comfortable, creative, friendly, and spacious place to stay. And they have goats.
Mushroom Hunting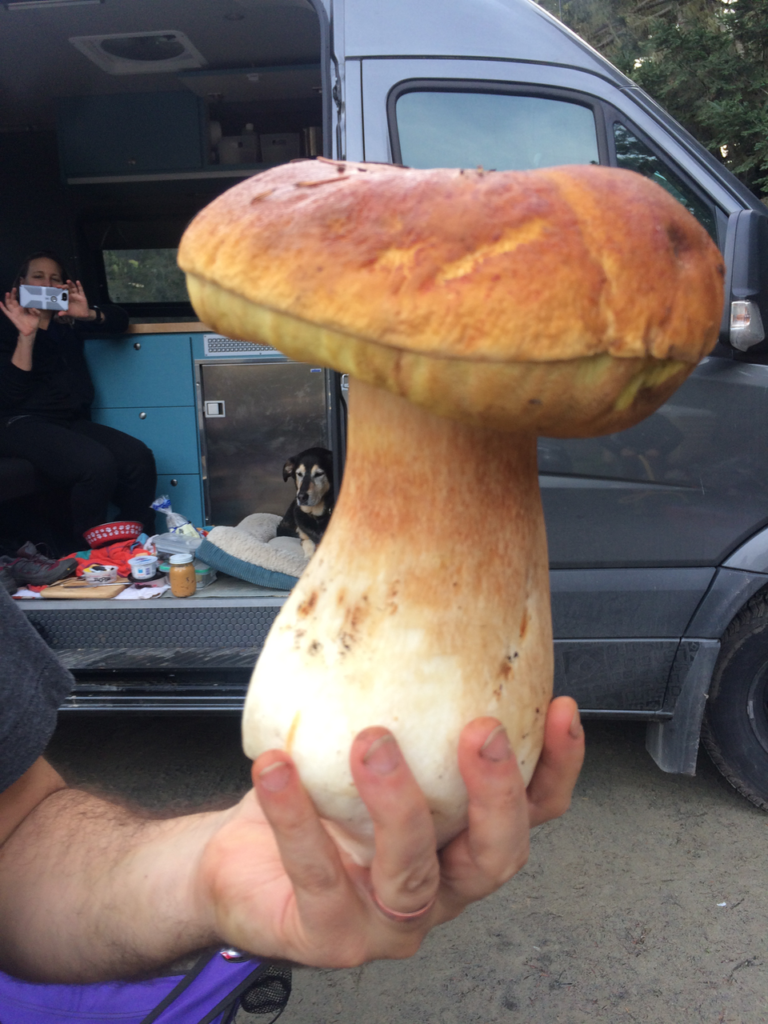 No destinations will be revealed here. But yes, we were near Mendocino. More photos exist but not on my phone. So instead I thought I'd share the types we found.
King bolete (Boletus edulis), Queen bolete (Boletus aereus), Manzanita bolete (Leccinum manzanitae). Love, love, love these.
Pigs ears (Gomphus clavatus)
Chantrelles (Cantharellus cibarius)
Cauliflower (Sparassis crispa)
Coccora (Amania calyptroderma) Coolest looking mushroom. Edible but we didn't eat it.
Last year we found Matsutake (Tricholoma magnivelare) but this year we were not so lucky.
Fish and chips
Each year we go to Sea Pal Cove for lunch. The fish and chips are divine and the beers selection is spot on.
Surf shack Fort Bragg
Quick call out to the local surf shop. Lost Surf Shack looks to be a small family run place but they were super helpful and we needed a new suit in order to teach a visiting German how to surf in three days. On the last day he caught a wave and rode it into the beach.
Hikes and Surfing Destinations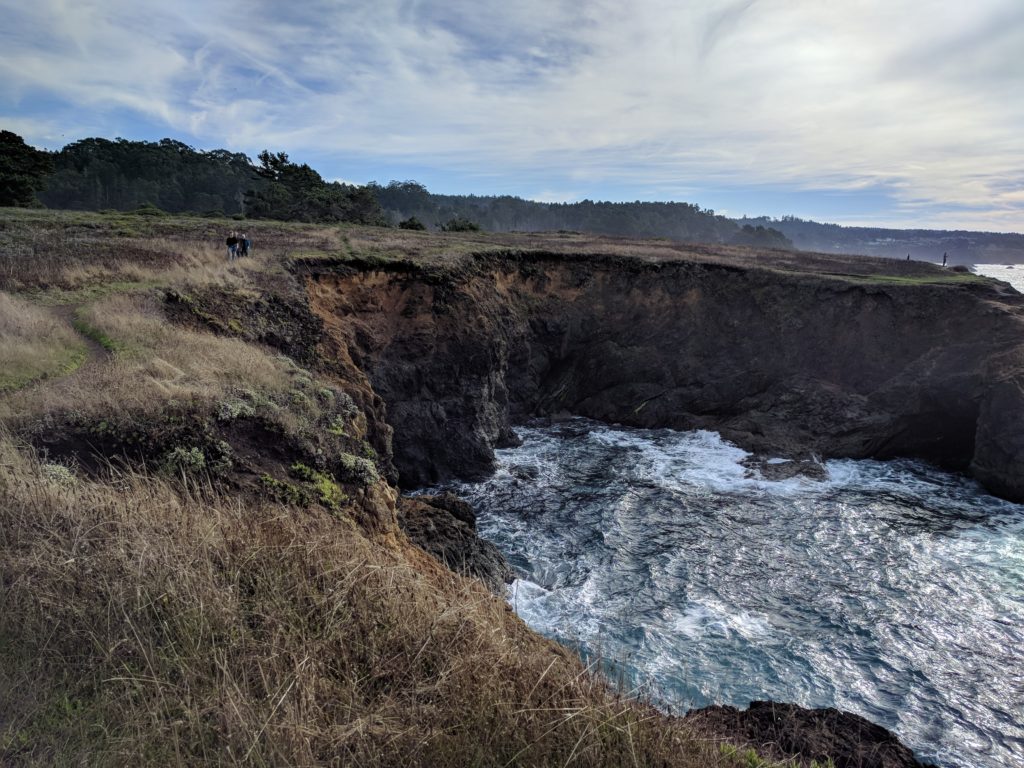 I find the water in the photo to be interesting. Photos never quite capture the grandness of the coast line. This was a hike out to Point Cabrillo Lighthouse.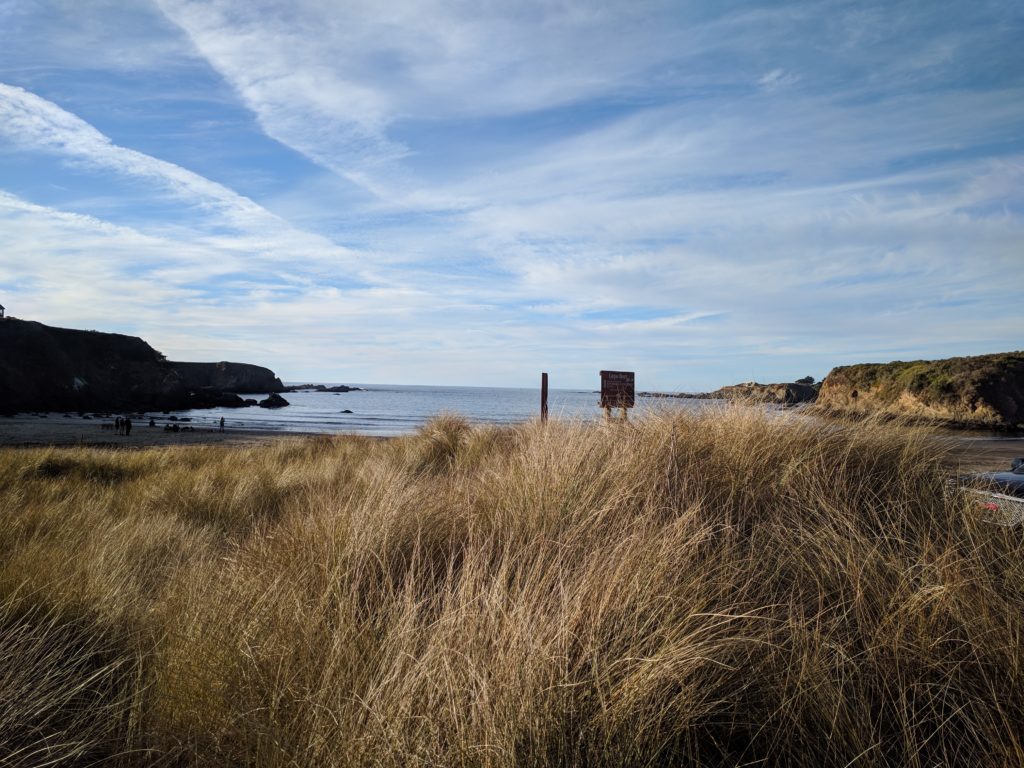 Casper cove is our goto and preferred surf spot. It really doesn't start to work until the waves elsewhere are larger. The crowds are super friendly and when there are waves it's an easy paddle out and fun short ride.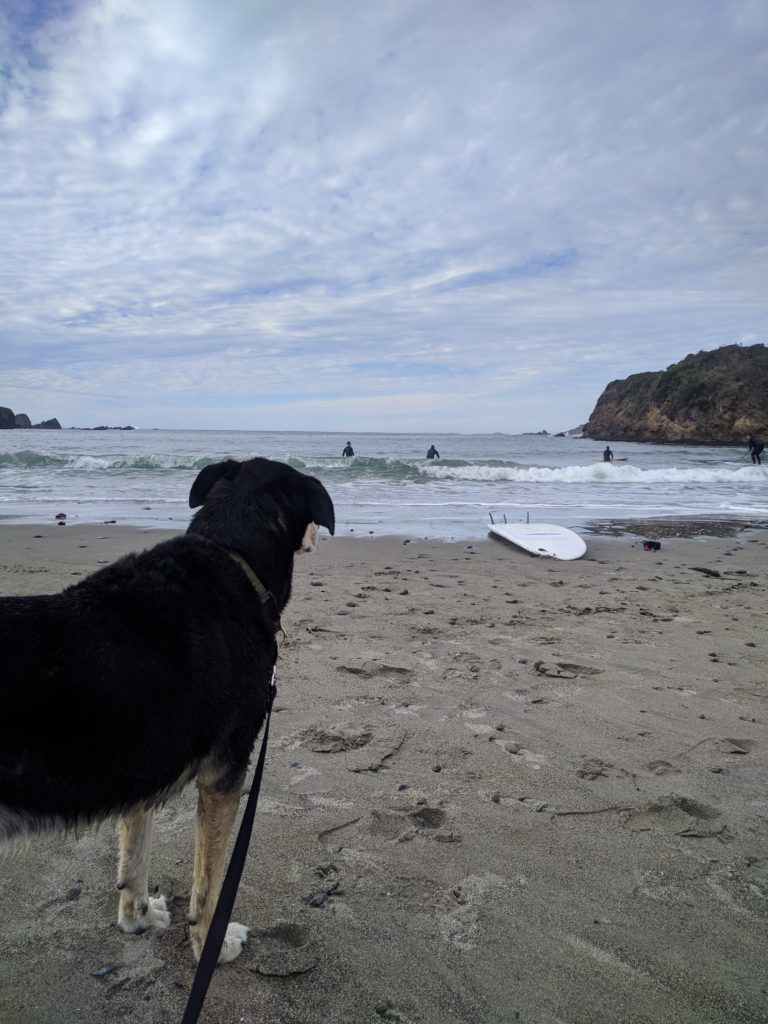 The pup REALLY want's to surf. We had to leash her because she got caught in a couple of waves trying to swim out to me.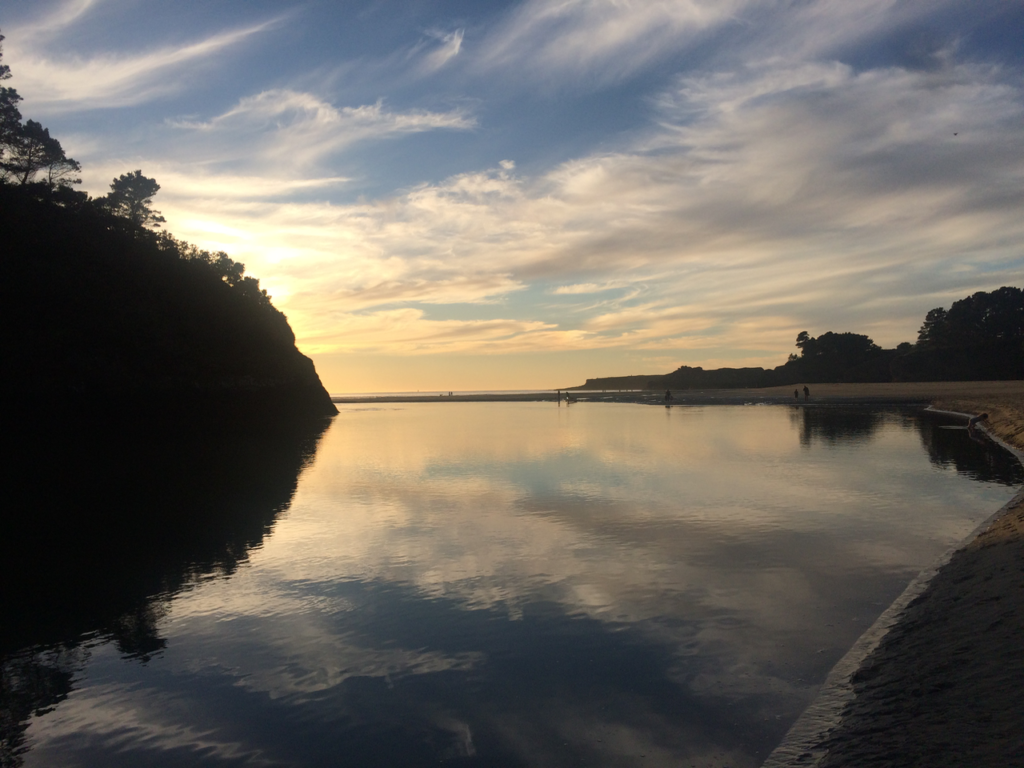 Sunset at our second choice surf spot. Mendocino Headlands state park has some interesting currents and the waves are not very consistent but the river is great for paddling.
Shameless van shots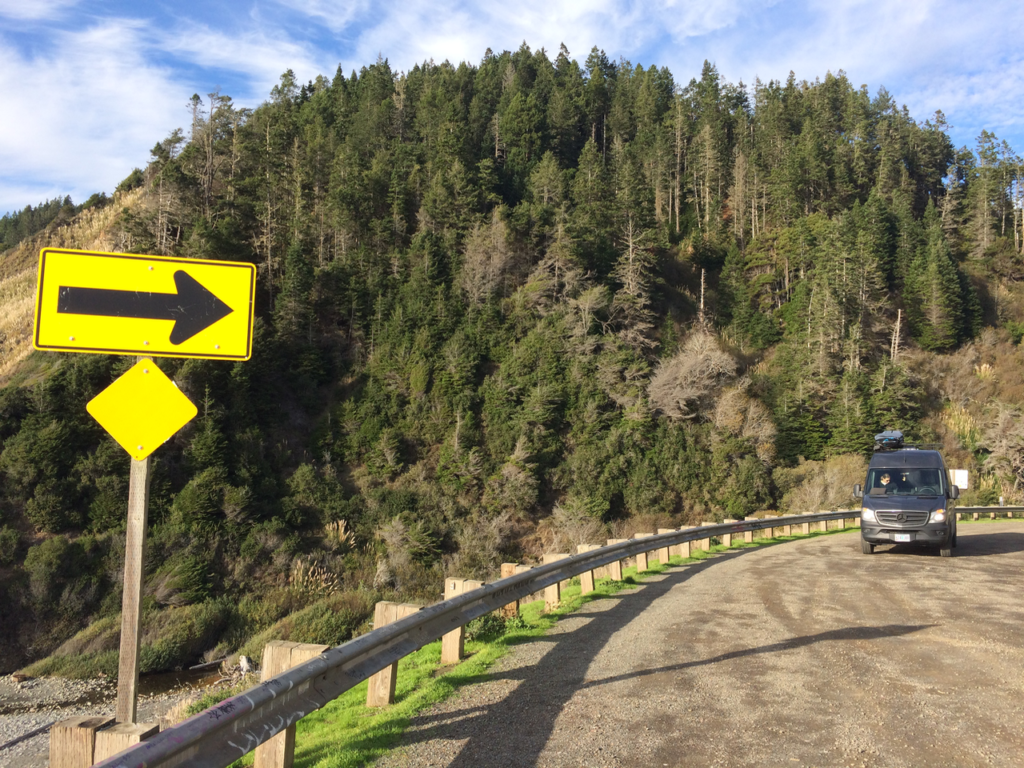 The first chance to stop after the winding hellish descent on HWY 1 towards the coast.
A quick pee stop outside of crescent city.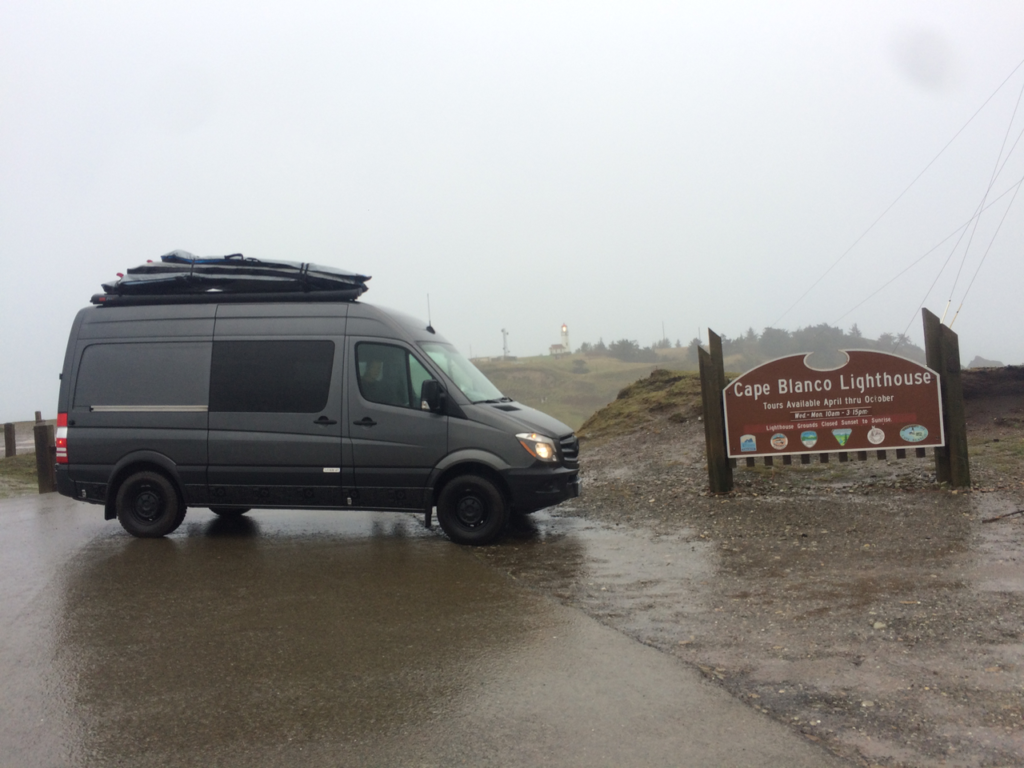 This is typically an epic view of the Oregon coast. Today is was high winds, pelting rain and cold.
Artistic Photos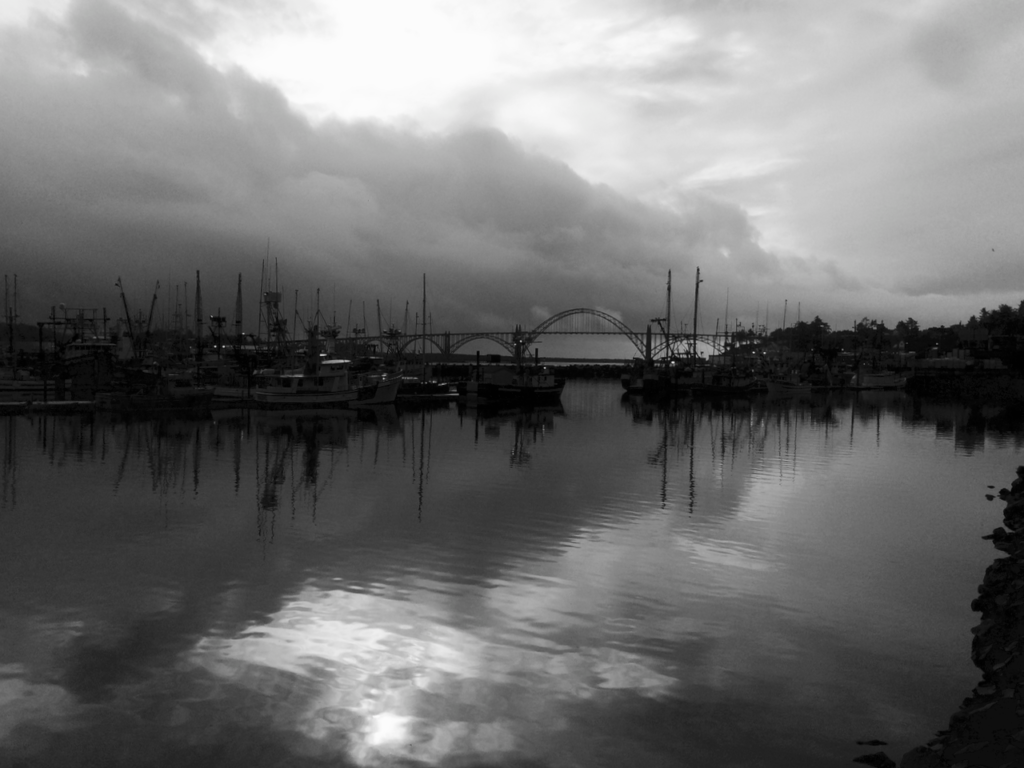 Newport Marina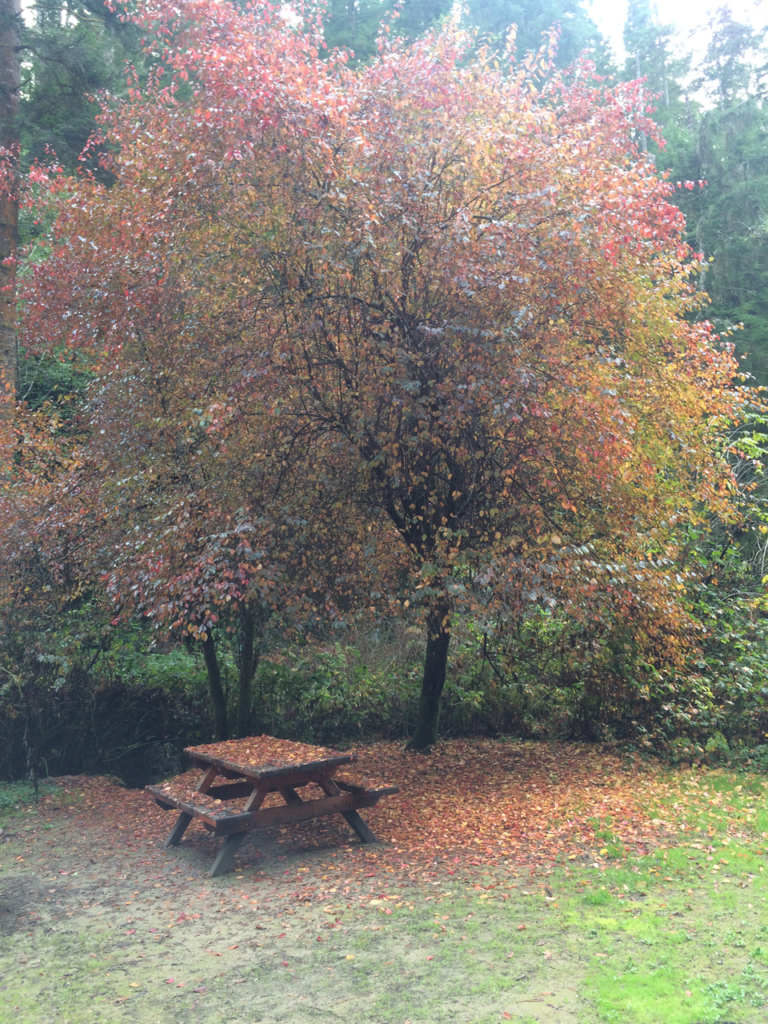 Closed campground just outside of Mendocino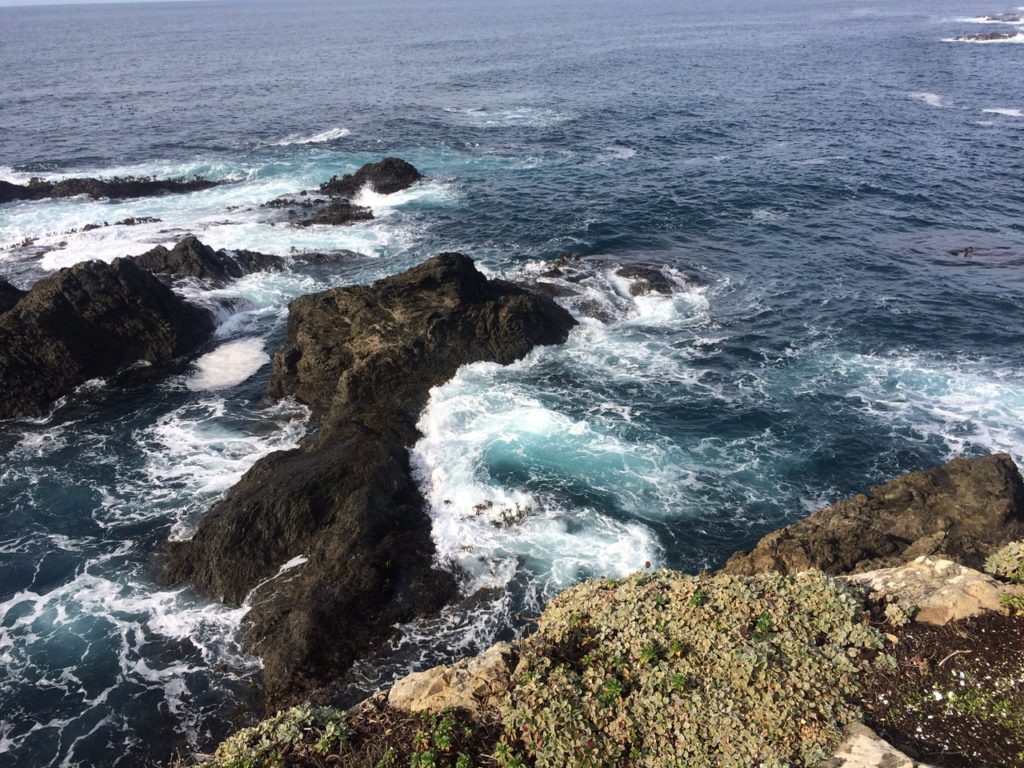 Swirling waters
Parting Shot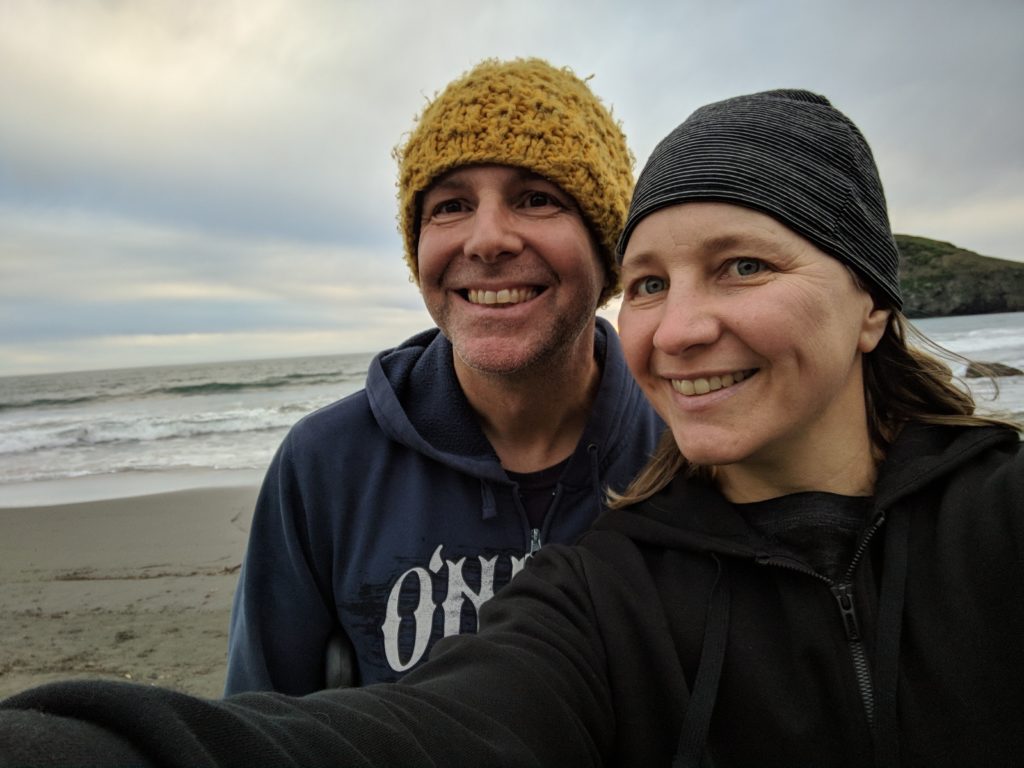 Experimenting with our selfie chin pose to avoid the dreaded double chin. It's clear I still need to work on where I'm looking.