San Juan Islands Spritzers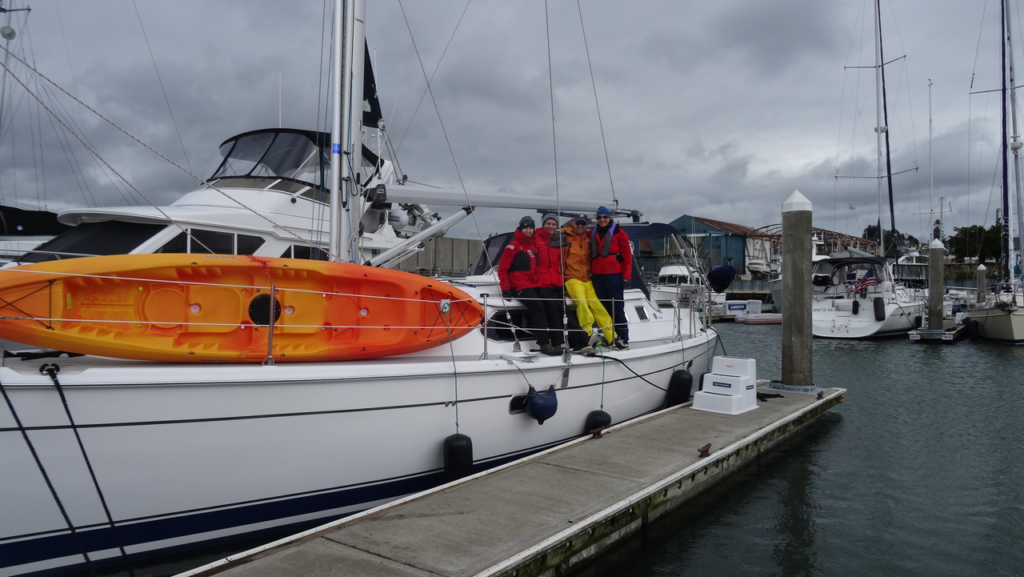 Leaving out of Bellingham with 29 knot winds, 3 foot swells, and a main sail that immediately unfurled to it's full power, was an interesting way to start a trip. We headed out on a Hunter 44 named Whitehawk from San Juan Sailing as the storm and winds increased. Within the safe confines of the harbor we motored passed other charters that had decided to wait until morning to venture forth. Not us, there was no time to waste and we were knowledgable, rugged northwestern sailors full of confidence and stupidity.
The ominous start rattled us as we rolled into Sucia Island full of ginger candy, Dramamine, and an overall sense of oh shit.  It was June in the Northwest and good weather was questionable at best. But that didn't stop our short memories from thinking that we had served our time after months of previous bad weather and deserved an early start to summer.  Our brains had clearly been saturated.
Sucia Island (Echo Bay)
The next morning was cloudy but the sun was emerging victoriously through the remnants of the previous days storm.  The water was calm and the mood on the boat took a notable turn for the better.  We to the SUP around the bay enjoyed a breakfast of salmon roe, rice, cooked mushrooms and seaweed…now that's how you start a sailing DAY!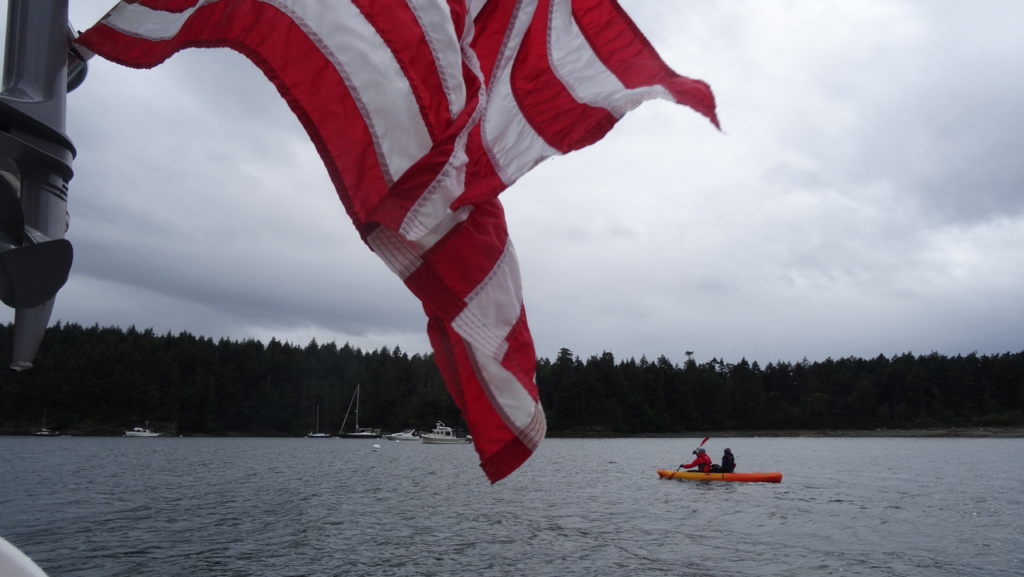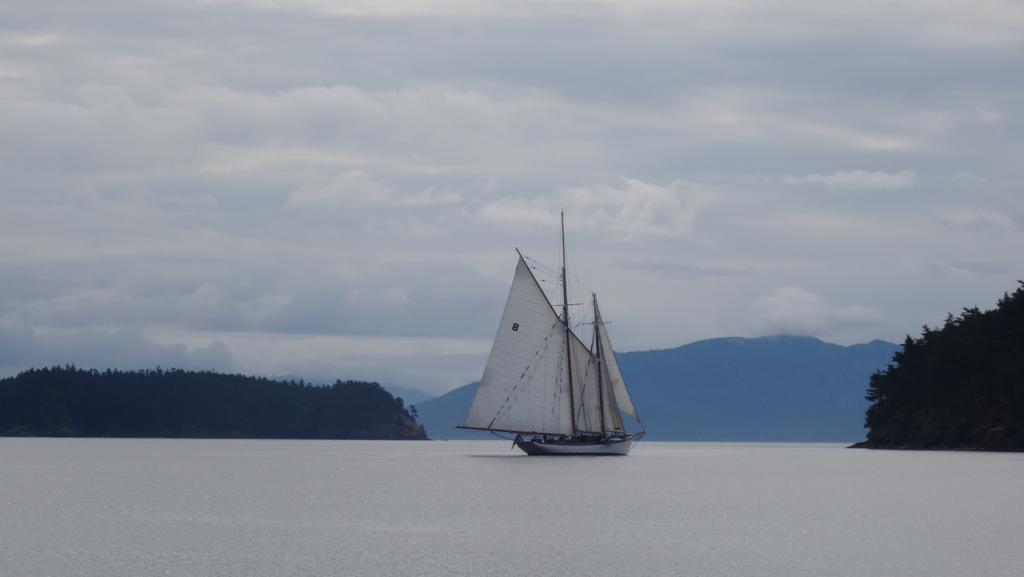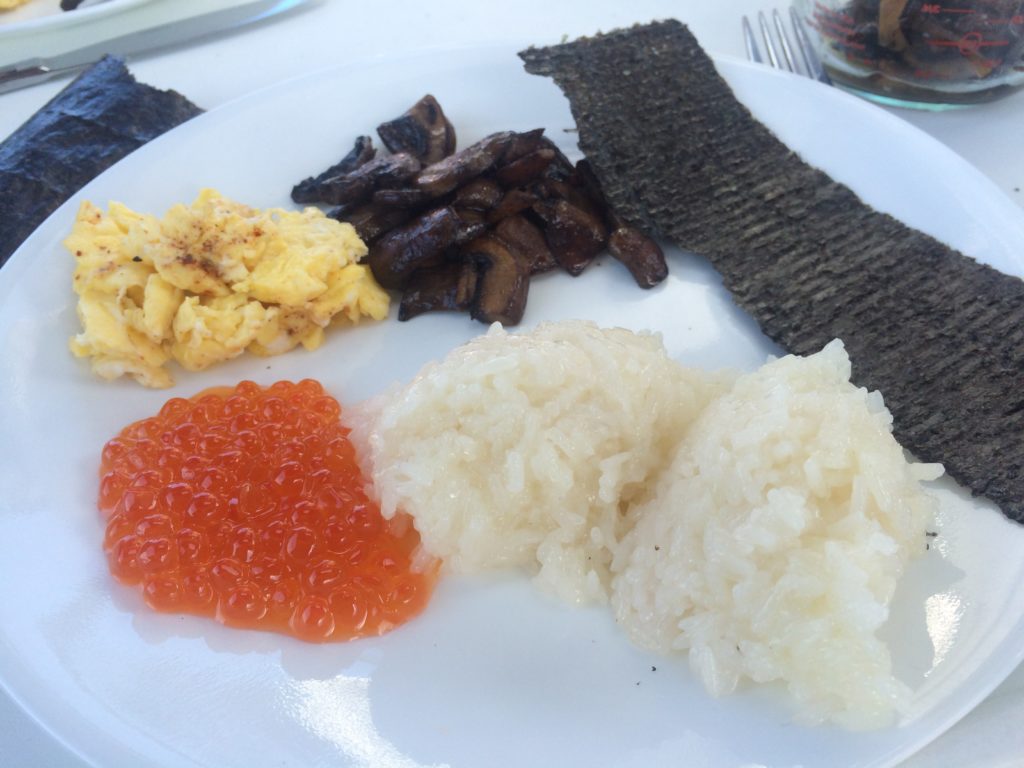 South Pender Island (Bedwell Harbor)
As with any trip you hope for good sailing during the day and calm nights while in Port. Heading out of calm Echo Bay destined for Bedwell Harbor (one of our only options for entering Canada) we would not be so lucky and settled in for a sunny but cool "drive" north across the boarder. Champaign and Aperol spritzers marked the moment the Global Positioning System worked it's magic of calculations and invisible communications with multiple satellites orbiting above us to pin-point a made up boundary of cultures and laws.
The customs check-in was very straight forward but it was unclear initially how it would go as the older couple parked in front of us were on the dock in conversation with one officer while two others rummaged around their boat. We had read the booklet carefully and had even measured what alcohol remained on board to make sure were were below the limit (just). Using the phones at the top of the dock I secured our ID and off we went without a glance while the old couple remained apparently getting a lecture of sorts from the officers.
Eagles nesting nearby, calm waters, and the sun gently settling casually behind the dense forests of Canada marked a continue sense of thankfulness that the early unseasonably warm weather stayed with us.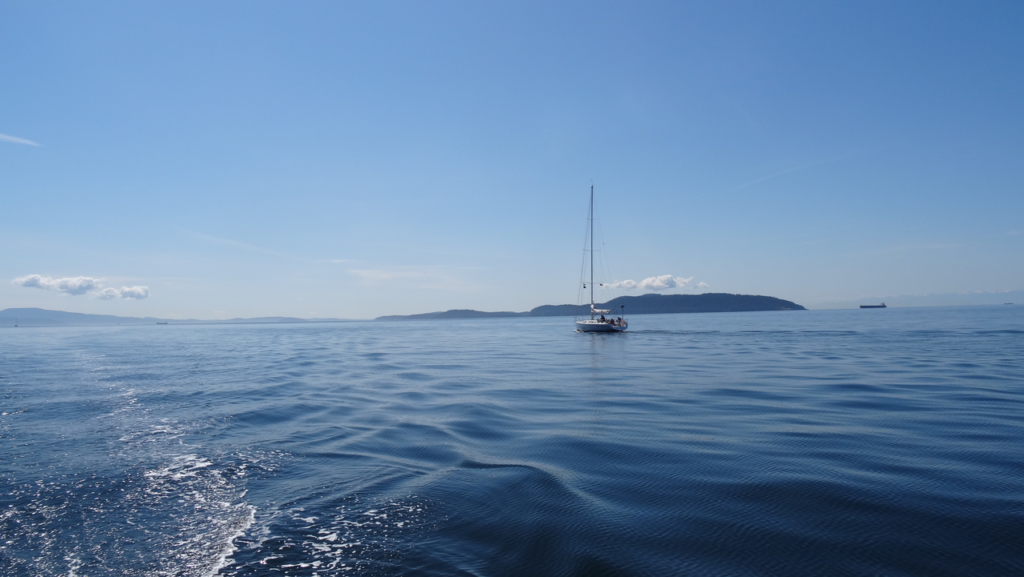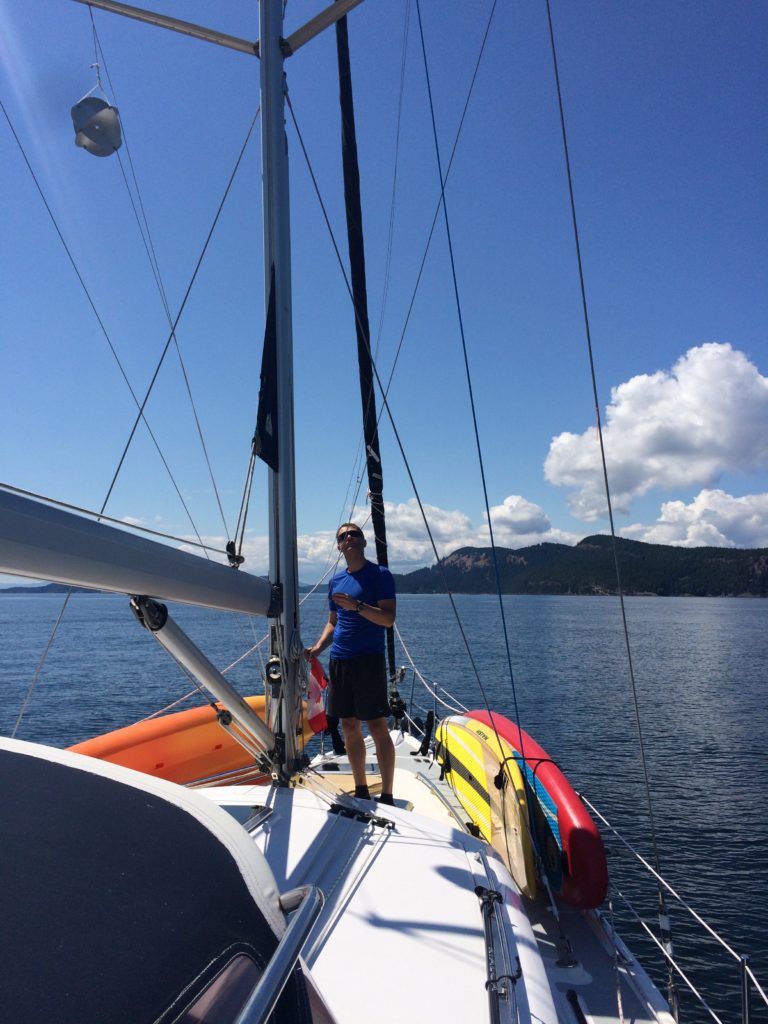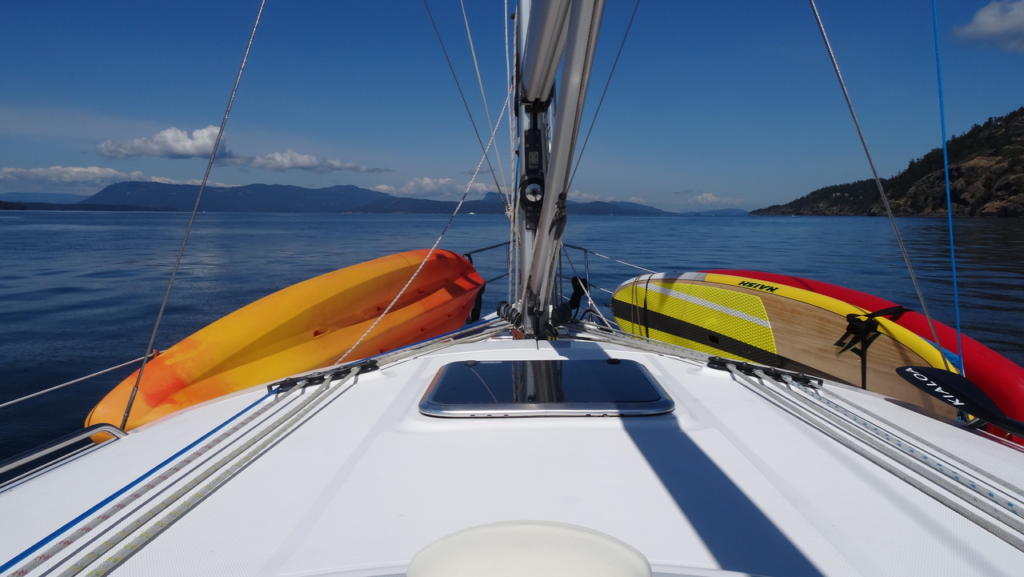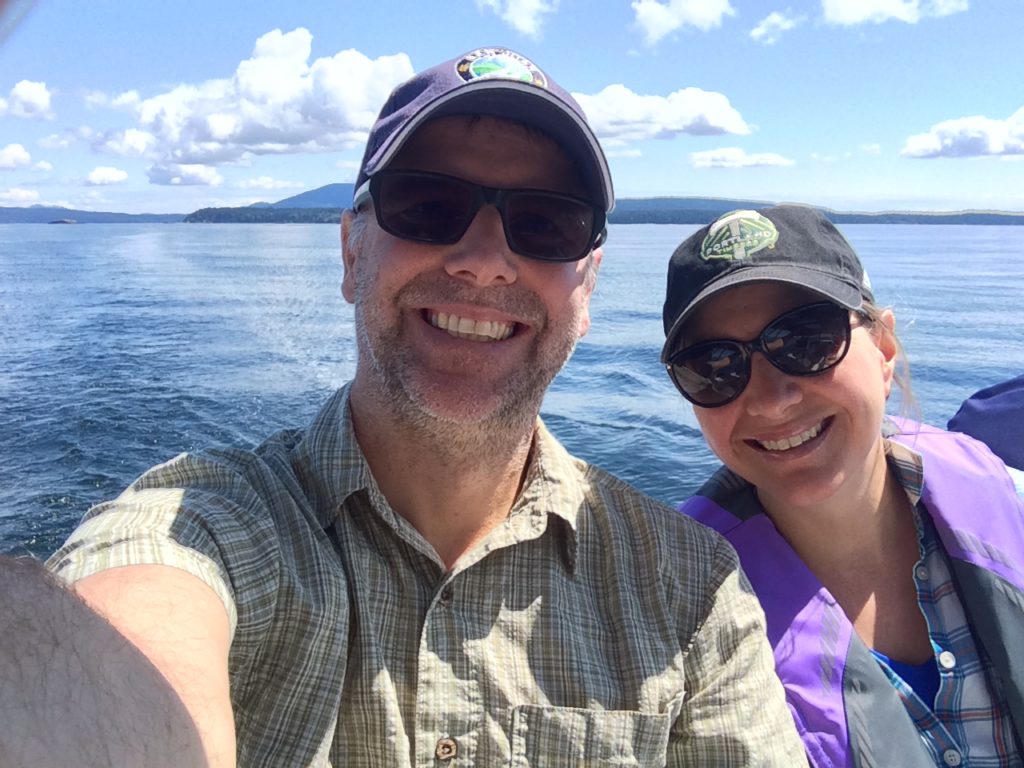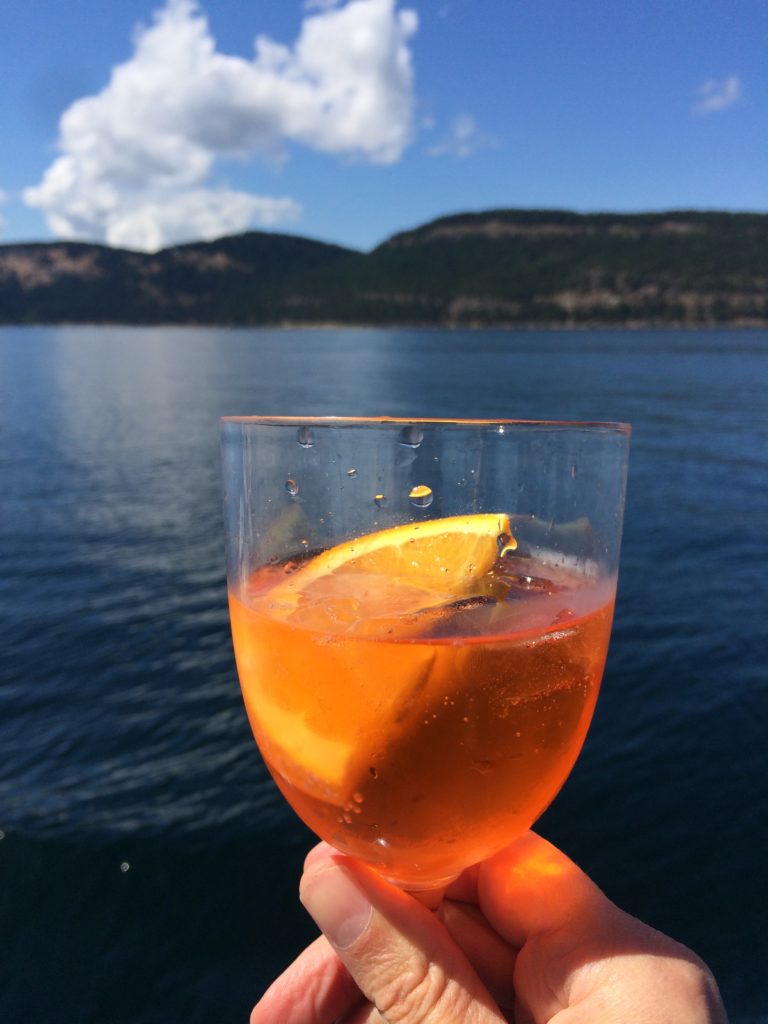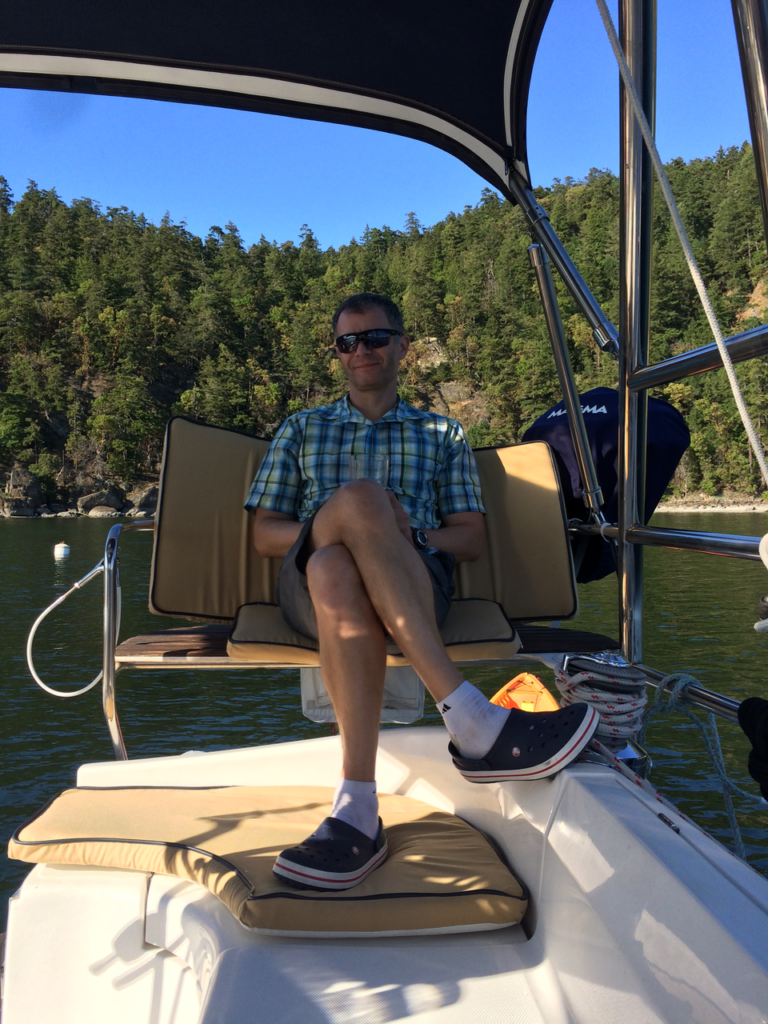 Salt Spring Island (Ganges town) and Prevost Island (Muddy Selby Cove)
After a quick stop at Ganges surrounded by the chaos of cars and people, Selby cove was a quite reprieve. The shore, though, was muddy, lose your shoe in a foot of sludge muddy. So after reclaiming our shoes from the bog, we took the SUPs around looking at crabs and purple starfish as the sun began it's slow descent. Selby cove turned out to be one of the more pleasant sunsets of the trip.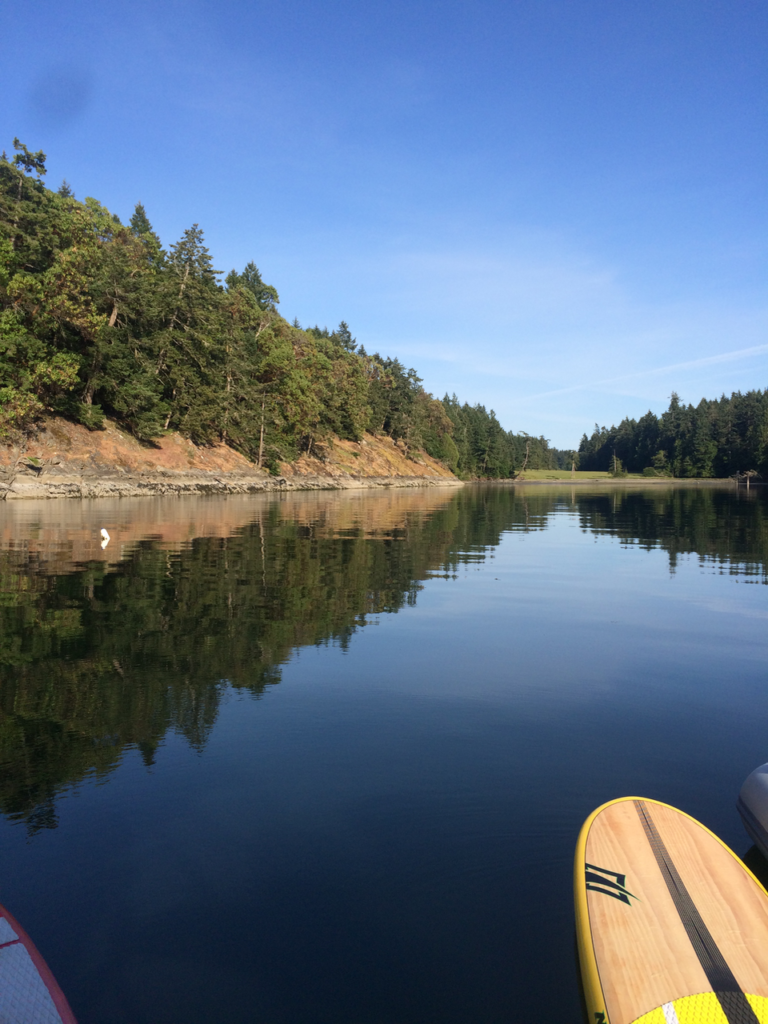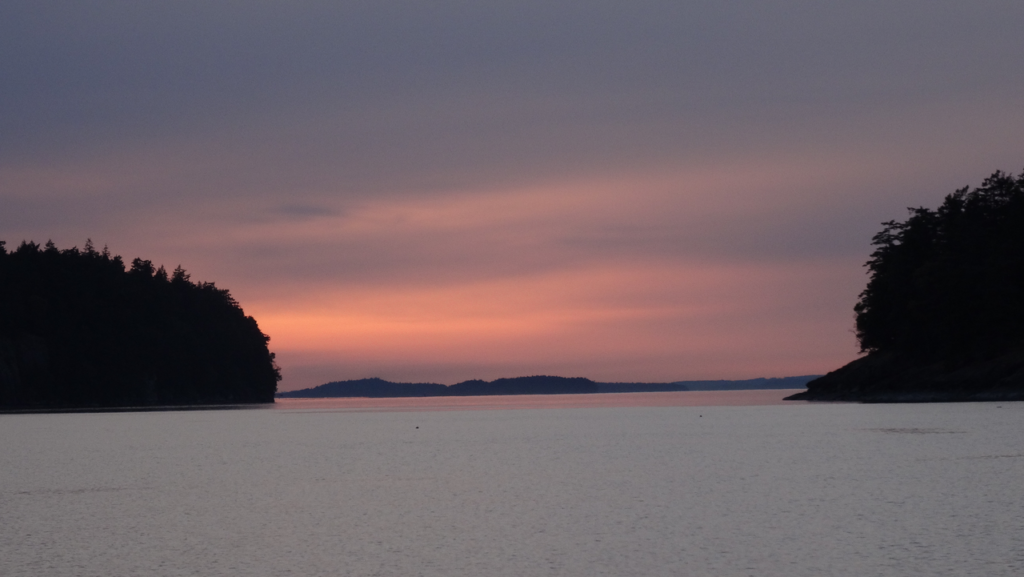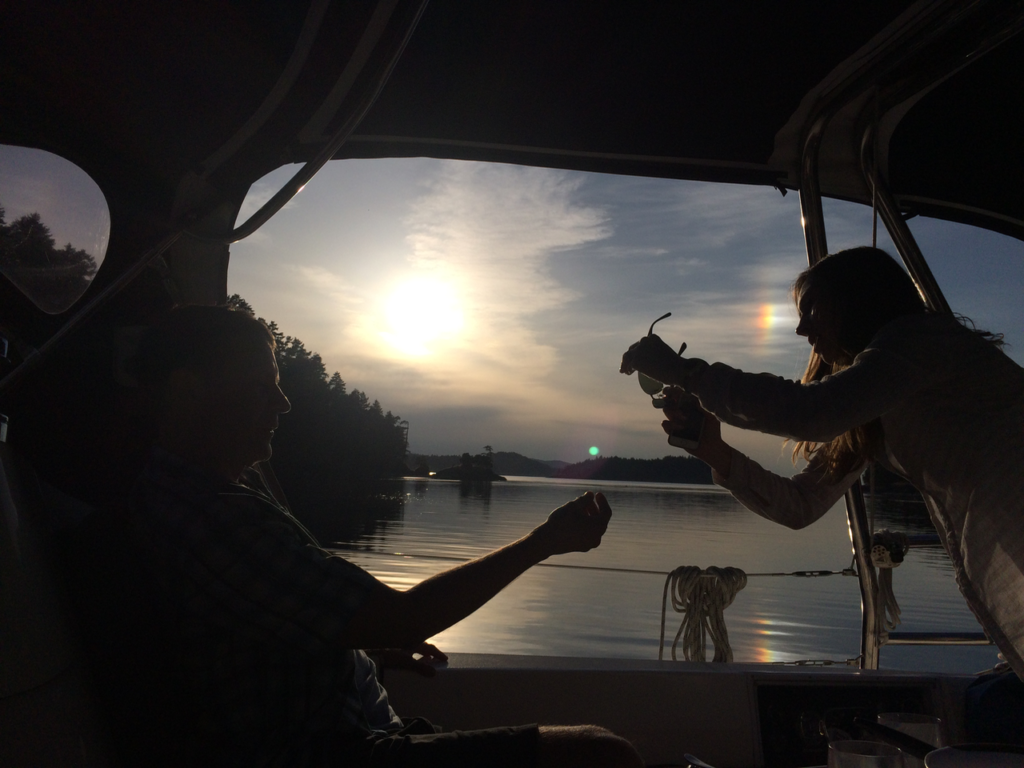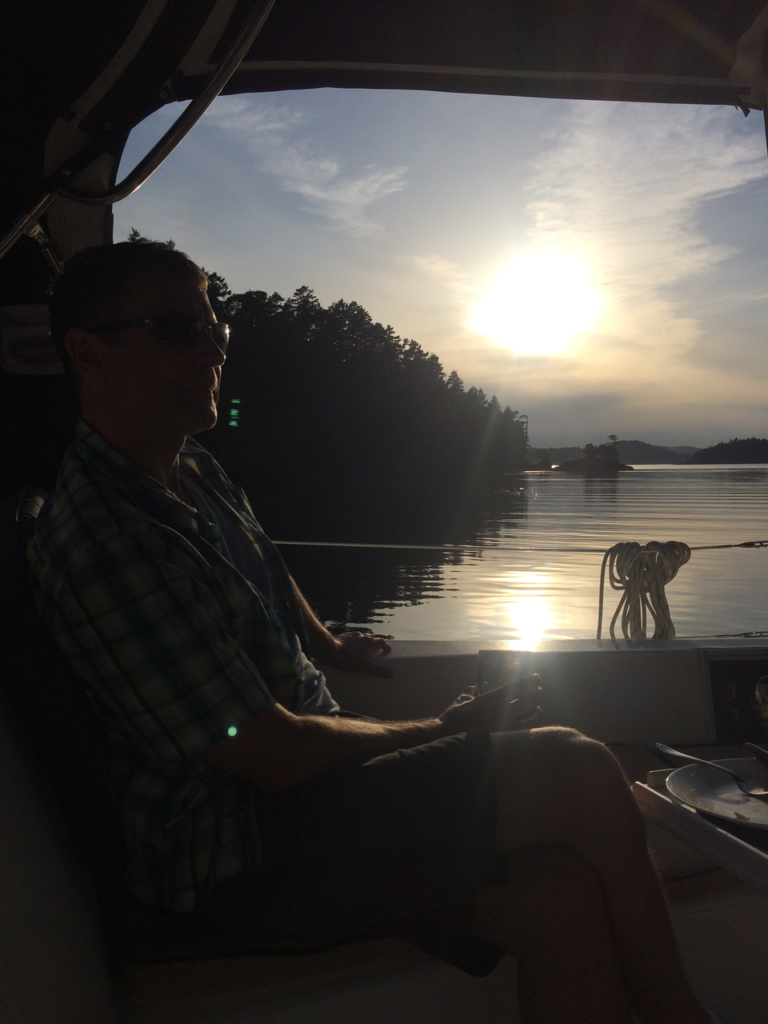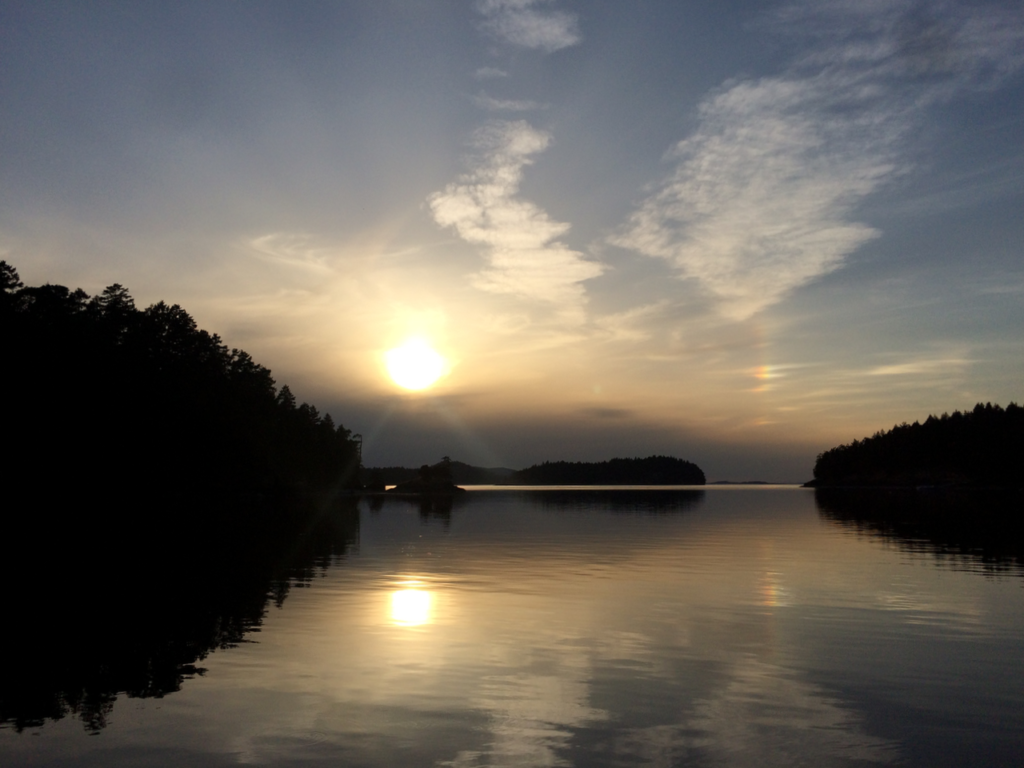 The next day we decided to seek out more solid shores in James cove, which was the next cove over. More exposed but much better beaches, hikes, and eagles peering over our meanderings.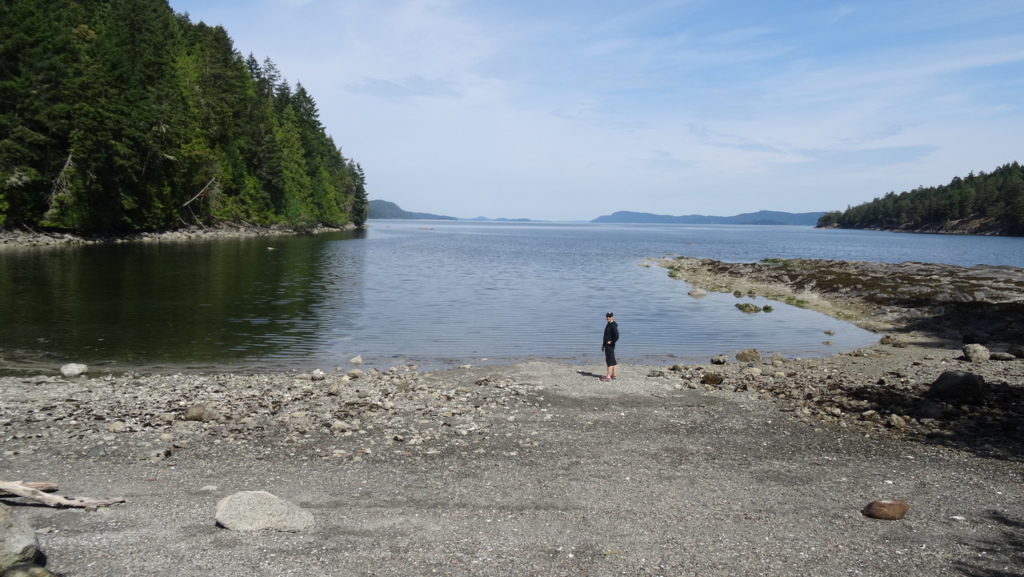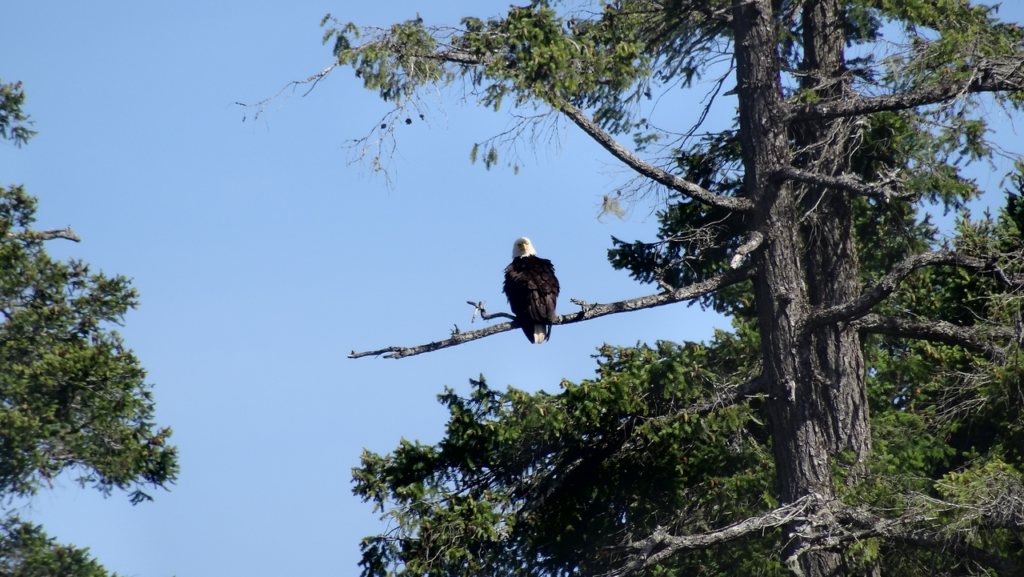 Saturna Island (Winter cove)
Our next destination was Winter Cove. The book described it as a popular area that could get crowded. No wonder as it was perfectly enclosed and with a surprisingly amazing view. The view in question could barely be seen from the boat from within the cove. But a dingy ride in and a short hike brought you to a small, inconspicuous bench that overlooked the Straight of Georgia and the entire west coast from Canada down to Washington. If you were to imagine the most amazing sky line of the most amazing city, this view would be the mountain range equivalent. Sitting on that bench I felt, for the first time, to be looking at the earths version of the milky way when unobstructed by human light. It was expansive and humbling.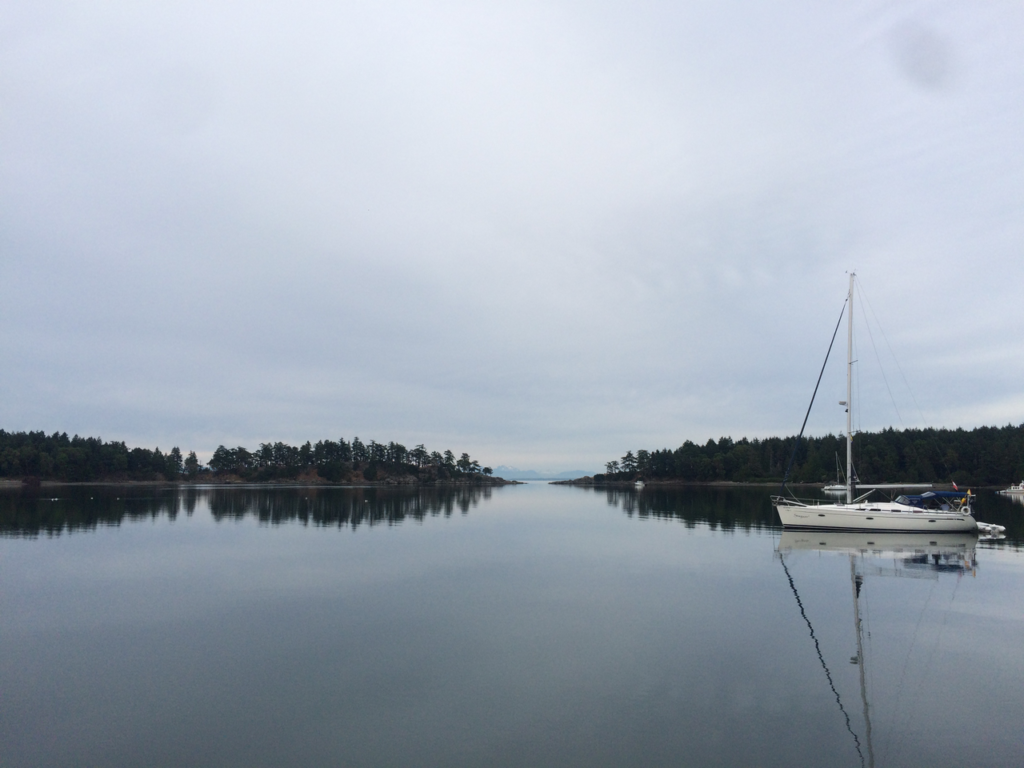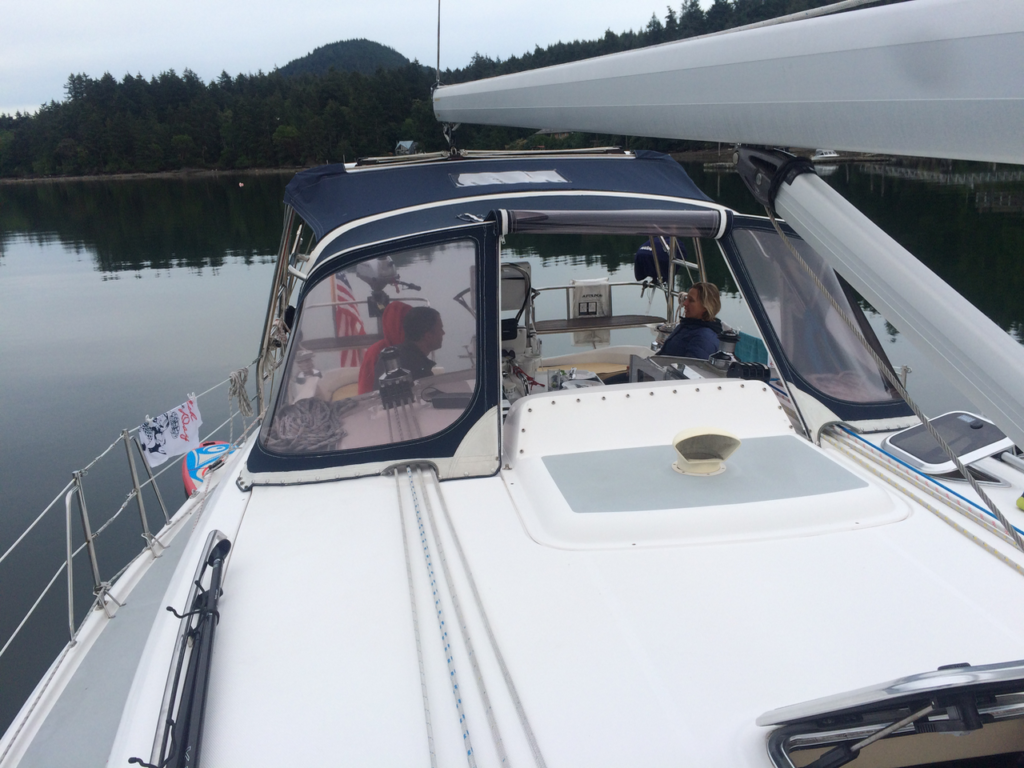 San Juan Island (Roche Harbor)
Our break from the remote (refill water and provision) took place at Roche Harbor. We reserved a spot and stayed only one night. I'm never a fan of harbors but they can offer excursions. If you are unfamiliar with Roche Harbor tradition be sure to lookup the scheduled for the national anthems (plural) and the canons. The canons were shockingly loud.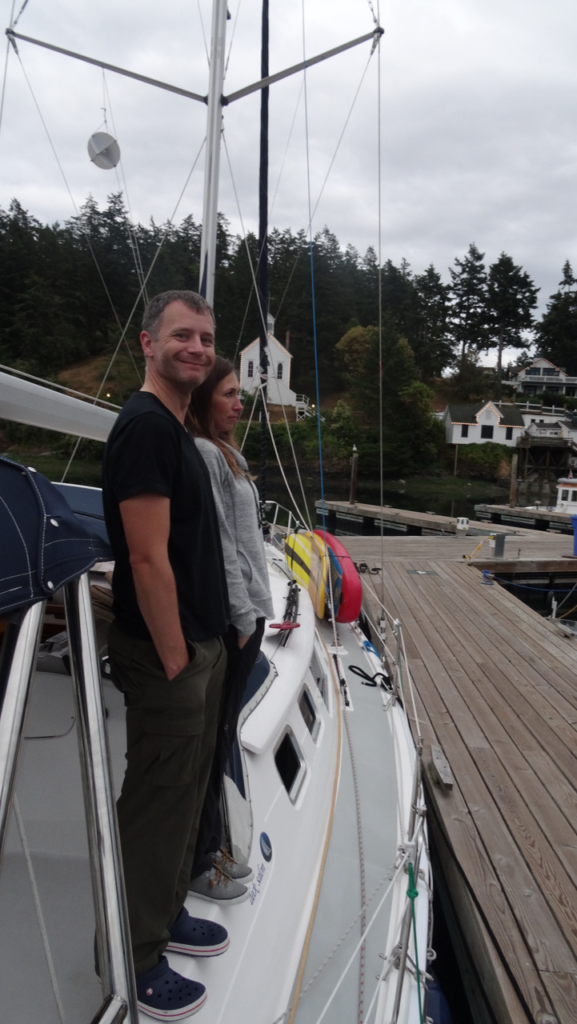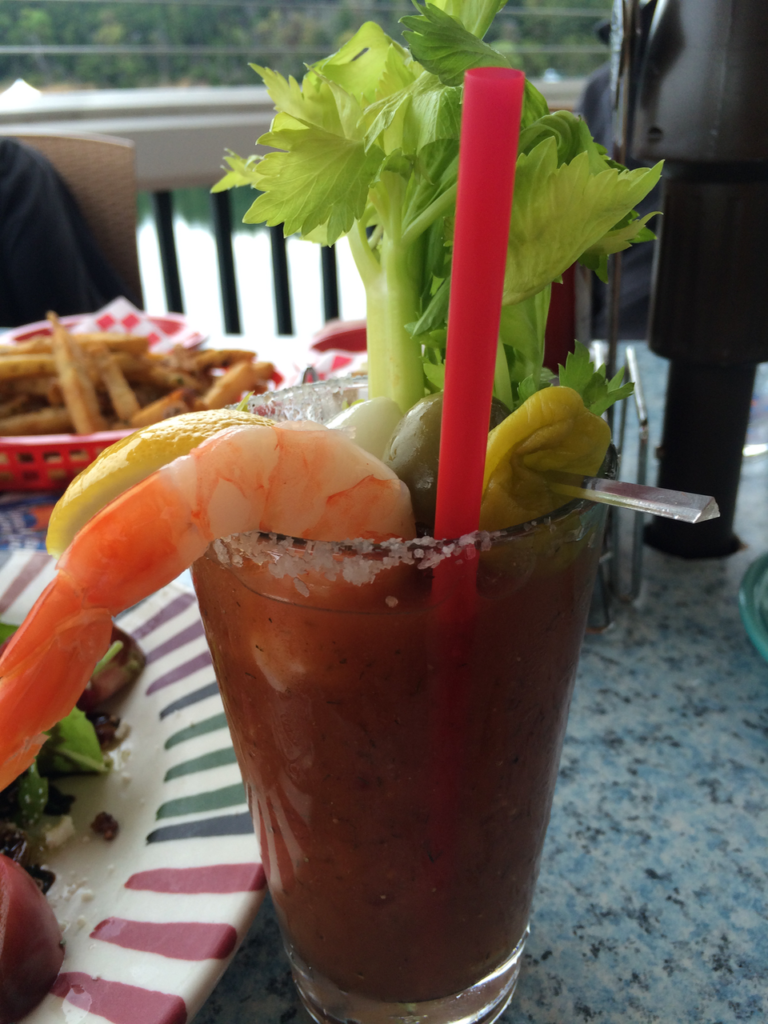 There is a very nice outdoor sculpture garden within walking distance of the marina. A nice break for sea legs.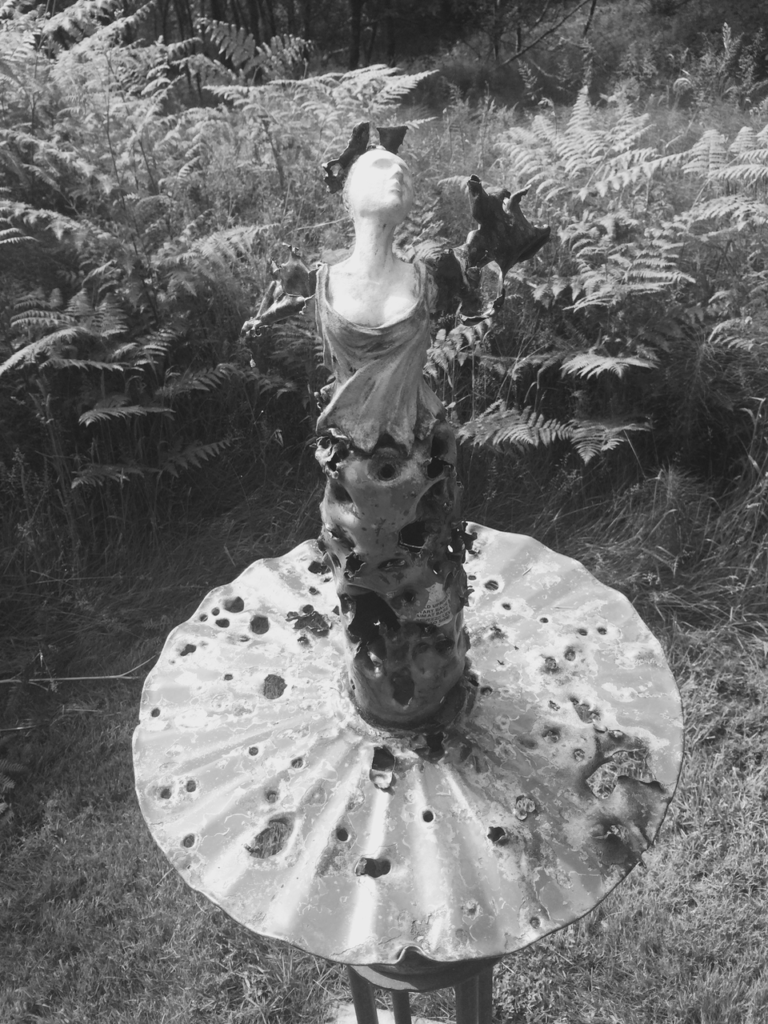 Lummi Island (Inati Bay)
Inati bay was our last stop before heading back to Bellingham. The feel of the water water, the short rocky beach, and the tall spindly trees all seem to exude a slightly different vibe than anywhere else we had been thus far. It felt tropical, exotic. The stern tie added an element of intrigue to the whole experience.