San Juan Islands on a Tug boat
Sailing is a glorious thing. The pure natural sounds of the water and the wind carrying the boat gracefully through the water. The feeling at the helm as you balance the forces of nature working with it and not against it to progress forward.
A tug boat is nothing like this but when we thought about taking our dog sailing the steep stairs into the galley, the keeling when under sail, the awkward getting on and off for an older dog who has never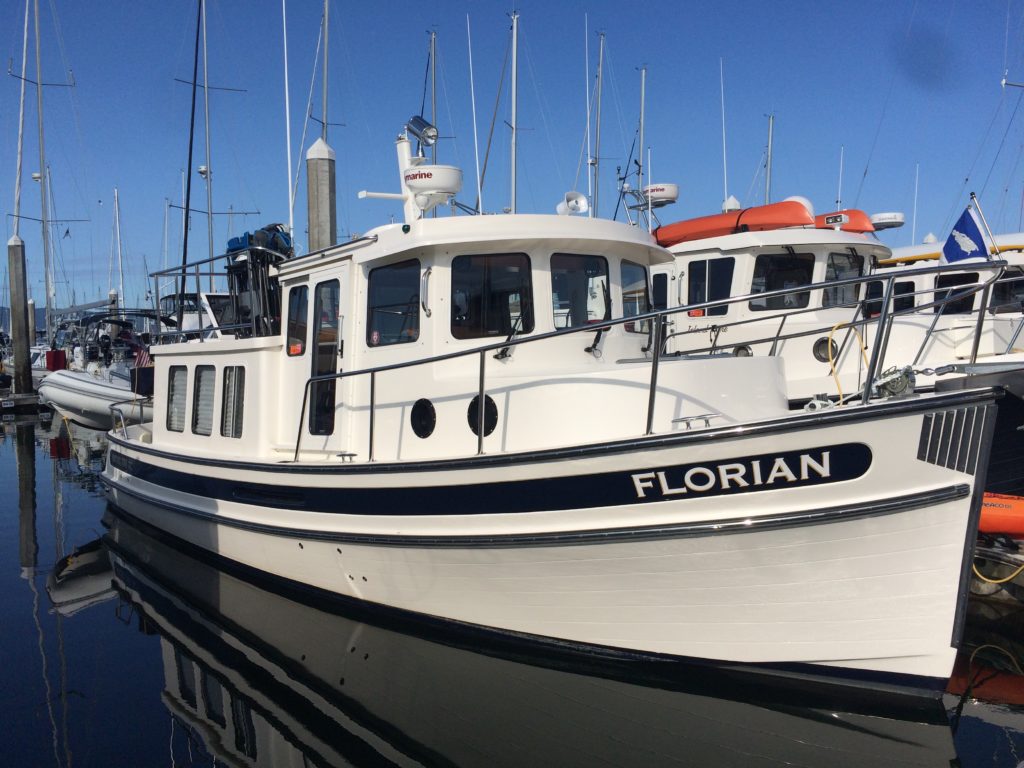 sailed, it didn't feel fair. A tug boat on the other hand is akin to an RV placed on top of a boat. It's spacious, stable, and designed for retiring folks looking to meander around the islands. It was perfect for our pup and to be honest there was a side of us interested in knowing what it was like. When sailing I'd see these tug boats about and always wondered.
The positives are quite simply; comfort, speed, and maneuverability. But it took some getting used to. Driving a power boat is VERY different and I was not aware of this difference until I got the chance to get gas with the mechanic hours before Sabine and I were supposed to leave. It was a complete cluster. Everything was different compared to a sail boat. The mechanic walked me through my mistakes and wished me good luck as he wandered off.
We always approach these trips with an itinerary in mind but they always change. With the tug boat and with it's speed (6-10 knots depending on current) there was a notion of heading north into Canada. But with the dog we decided to stay close around Orcas Island. We rented our boat from San Juan Sailing out of Bellingham and because of the nightmare drive from Portland we arrive the day before and stay on the boat. With everything in place and a few shaky nerves from my first foray out we motored out of the Marina.
Day 1: Cypress Island: North of Eagle Harbor
Our first stop out of Bellingham was Cypress Island.  Originally Cypress was considered a last night stop but with a late start out of Bellingham we decided to head there first. Arriving late Eagle Harbor was full and so we headed north to some of the few coves that while slightly more exposed are very nice. The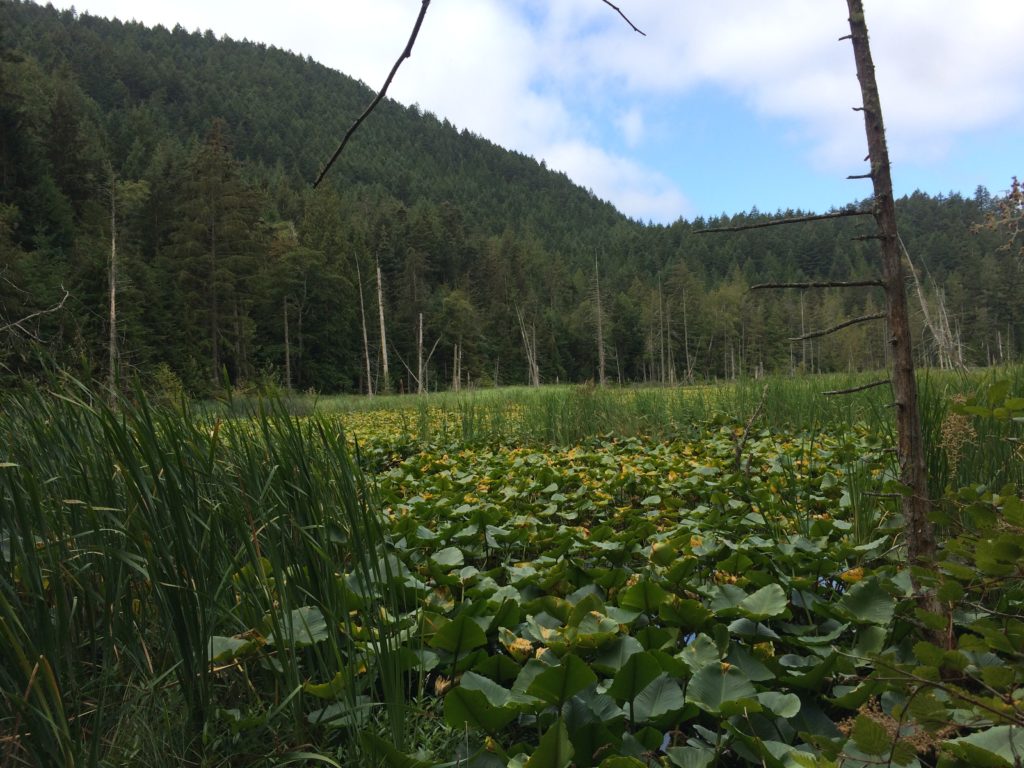 tide was high at the time so there seemed to be ample space between the few boats anchored there. We anchored in what seemed like a good spot but over the course of a couple hours we came too close for comfort to the boat next to us. To the point where they came out and began peering through a digital golf distance finder to tell us how close we were. So we moved and all was good. Cypress had some wonderful hikes and lakes within the island. The island is remote enough and with the new moon Sabine lucked out waking up early to see the stars in their full glory.
Day 2:  Lopez Island: Spencer Split
We then headed across busy Rosario Strait towards Lopez Island to get to Spencer Split. Over the weather radio we kept hearing warnings of storms but it was unclear how far north it would hit. Spencer Split offered good protection but with a low beach the winds could cause turbulence. We found the last remaining mooring ball and settled in.
Day 3: Stuart Island: Reed Harbor
Continuing North our plans continued to change. We motored through the Wasp Islands towards Jones island that seemed like a viable option (word is there is a herd of deer on the incredibly small island). The south anchorage was completely empty which seemed like an ominous sign. The north was crammed full with boats so we continued further north to Stuart Island. Reid Harbor is a very long, very protected inlet with numerous mooring balls and anchoring options. They even have floating docks that 4+ boats can share providing great options for flotillas.  This was one of our quietest nights and we did manage to get a VERY quick swim in.
We met a great couple that had connections with a group that does http://www.bargingineurope.com/. This could be my next adventure.
Day 4: San Juan Island: Friday Harbor
We knew that prior to going into Friday Harbor we would need to practice out docking skills with the tug. Luckily Reed Harbor had a small floating pump out station that gave us a good reference point for testing out our maneuverability and way the tug would react to certain scenarios. It took us a while but we learned some valuable lessons that would pay dividends later navigating into a narrow and crowded Friday Harbor. The main lesson was that the boat does not turn to port in the reverse, at all.
Arriving into Friday Harbor was nerve racking but the morning practice we had done helped. We managed to slide into our slip with minimal maneuvering…although we did get a comment from a nearby boat owner cleaning his boat that our entry was less than quiet. Granted he was not as familiar with the need to use the engine in a tug to get it to turn. We ended up giving him and his girlfriend a tour of our boat. A constant theme during the trip was whether or not purchasing a tug vs a sailboat is a better option. It probably more comes down to how far you intend go.
The town itself was very busy and not overly appealing. Cars, streets, people, whale tour boats, all intermingled in an overly small area. It seems the town could have done a better job of placing walking friendly areas near the marina but it felt to us like we had just been dropped into a mid west town during a rodeo. I felt an immediate need to get the heck out of town.
The next morning we left as early as possible.
Day 5: Sucia: Shallow Bay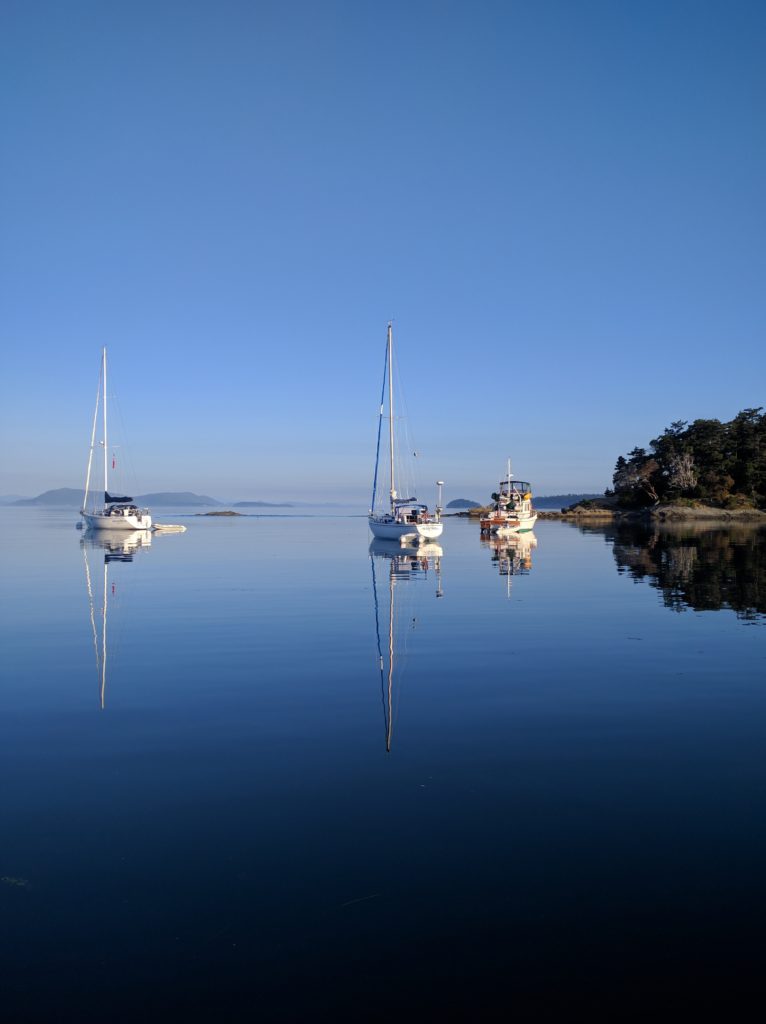 At this point we were heading back toward Bellingham and knowing how much we love Sucia it made sense to stop there. We had never stayed in Shallow bay (mainly because with a sail boar the name strikes fear), but with a tug we didn't need to worry about it as much. We arrived at low tide to find several mooring balls available and one very precariously tilted sailboat close to shore.
Day 6: Bellingham
One issue with renting a boat for a week is that you typically need to have it returned, gassed up, waste pumped out, and turned in before noon. This always creates a conflict with wanted to enjoy the luxuries of a quiet cove vs the insanity of boat lines in narrow corridors to accomplish all the tasks prior to checkin.